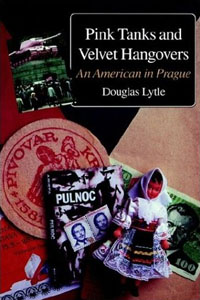 I know you have been riveted by my new series of cultural insights about the Czech Republic from the book, I just finished, entitled Pink Tanks and Velvet Hangovers: An American in Prague. To read the last couple entries related to this series click here and here. While I was on STINT in Prague I notice I didn't see a lot of handicapped people in Prague. It got me wondering, "Surely they have handicap people here too, but where are they." Douglas Lytle hits on this briefly in the book:
The elderly and handicapped are automatically given seats on the trams. As we rattled along, Nikola said that the trams are easier than the underground subway, which has no elevators and more steps. The previous government [the communists] neglected to do much for the needs of the handicapped. "They said handicapped people only existed in capitalist countries!" Nikola said.
Wow, I still don't know what to think about that quote from this woman named Nikola, but I obviously still saw the truths of this when I spent time over there. It makes me wonder about our country's values compared to the Czech values. Hmmm, well, I need to get to some homework for training. Thanks for stopping by!