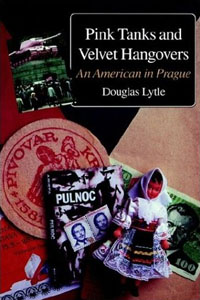 Well, in hopes to help you, my faithful reader(s), learn more about Czech and, Lord-willing, develop a heart for the country and the people that make it up I will begin a new series of posts. I'm not sure how long this series will be, but we shall see. These posts will be excerpts from a book that I'm nearly finished reading that's entitled Pink Tanks and Velvet Hangovers: An American in Prague. Here is the book's description:
Pink Tanks and Velvet Hangovers: An American in Prague, by Douglas Lytle, is a travel book that takes place in the months following the fall of the repressive Socialist government in Czechoslovakia. From the vantage point of an American journalist who went to Prague with his Czech girlfriend, Lytle documents the first shaky steps to democracy and capitalism, including the 1992 division of the country into the Czech Republic and Slovakia. He writes of the awkwardness and slights of a country in transition, the sights, smells, and incredible beauty he witnesses, and of a people and a government on the cusp of massive change.
I look forward to posting these excerpts! I pray you enjoy them as well! Have a revolutionary day!