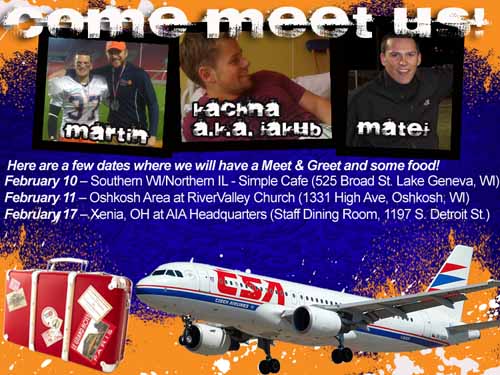 That's right I'm coming to America! I leave in less than 12 hours, but this time it will be different! I'm bringing three of my guys!!! Tomorrow at noon (Prague time) Matej, Martin, Kachna and I will be leaving the ground on a plane bound to Chicago! I can't wait! It should be great! We would love your prayers! Pray it up please! We hope to see you while we are in the States, some of you will have 3 chances, here they are:
February 10 – Southern WI/Northern IL – Simple Cafe (525 Broad St. Lake Geneva, WI)
February 11 – Oshkosh Area at RiverValley Church (1331 High Ave, Oshkosh, WI)
February 17 – Xenia, OH at AIA Headquarters (Staff Dining Room, 1197 S. Detroit St.)
We hope to see you!