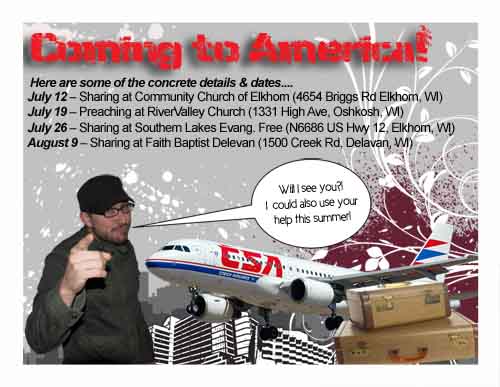 This summer (actually in a few days!), I'm returning to the States for a short furlough after 2 years being out on the field! Can you believe it has been two years already! Where has the time gone? With that said, I'll be hopping on a plane and heading to the States for 5 weeks to connect with family, friends, and ministry partners and also to (re)raise some prayer and financial support for
OUR
ministry and my work here in Prague!
As you would imagine in light of the things that have happened since I've been gone, there are some needs out there and I'm trusting God to show up. With that said, would you help me? Would you consider helping me connect with others that would join
US
in reaching this city, country and continent!?!?
Please head over to the contact page and drop me an email if you have any thoughts, suggestions and/or questions!
As far as dates for the summer, they are starting to line up for my 5 weeks back. I recently sent a postcard (download by clicking that link or this one) out with the church dates, but I thought I would share them here.
July 12 – Sharing at Community Church of Elkhorn (4654 Briggs Rd Elkhorn, WI)
July 19 – Preaching at RiverValley Church (1331 High Ave, Oshkosh, WI)
July 26 – Sharing at Southern Lakes Evangelical Free (N6686 US Hwy 12, Elkhorn, WI)
August 9 – Sharing at Faith Baptist Delevan (1500 Creek Rd, Delavan, WI)

There will also be "Come & See Me" times where I will/might be hanging out near a coffee shop near you, so we can connect. When I have some of these dates down, I'll post them here!

Thanks for all you do! Know I'm so grateful for every prayer prayed, tear cried for these people, and dollar sent! You guys rock! Thank you!

Oh one more thing, as always you can learn more about joining my team of ministry partners over at my support page! Thanks! Be a Revolution Today!