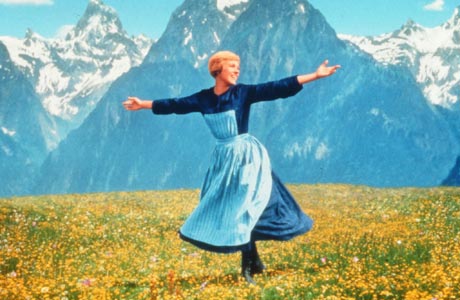 Um…..? I don't think I will be joining Maria (Don't know what I'm talking about it's called
Sound of Music
, you might have heard of it?!;-)) singing and spinning in the hills, but I'm gearing up to get some much needed time away! It's been a long past few months and I've been going hard without getting much time to catch up. So tomorrow at 14:14 (2:14 p.m.) I will be hoping on a train to head towards my favorite Czech city, outside of Prague,
Cesky Krumlov
, and then to
Salzburg
, Austria for 3 nights! I'm going to be traveling solo for the majority of it, but I just found out that one of my best friends, Jason McFarland, here in Prague just decided that he would head down on Saturday. So it should be a good mix of some solo time and some time with a good, good friend.
I would ask that you that you please pray for me as I'm going. Not just that I would get some much needed physical rest, but something more. I've been asking God, and myself, some tough questions about life, ministry, my character, my leadership and more over the last few months, so my heart in this holiday is also to have God meet me in the midst of this. I don't know that He will give me concrete answers, but I'm praying that He would meet me, change me, bring repentance where needed, encourage me, refresh me, give me some directions in some areas of life/ministry and lastly that I would love Him, others, and this city, Prague, more!
Thanks for being you! Here's a little map to help you see where I'll be over the next few days!
View Larger Map