They are just piling up! This weekend I acquired yet another one to add to the list. Here is the list as of now:
Bum ankle, from ultimate frisbee last summer at training, acting up
Pulled hamstring, two days before the season started.
Slightly hyper-extended right knee, that resulted in me not walking for two days.
Deep thigh contusion on my right quad.
Re-dislocated pinky finger on right hand. I did this in warm-ups!
Said contusion feels as if it has developed into a quad strain.
Re-Hyper-extended left elbow
That's with 4 games left! I know I'm getting older, but this is ridiculous! Time to do some rehab…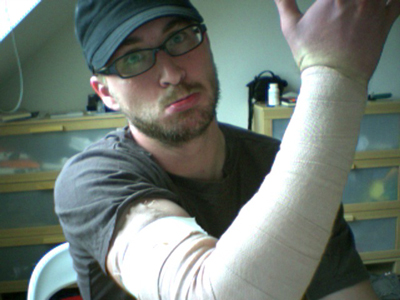 note:
Bottle of Advil over my left shoulder for swelling! Love it!