aia
In 40 minutes I'll be getting in a car to head an hour or so out of Prague for our spring AIA planning retreat. Shortly our team will be disbanding and heading back to the States (except for me) for various things, and that means planning time! For those who know me, planning and meetings like this aren't my strongest suit, but I'm actually going into the next 4 days with a good attitude! Praise God! It should be good. Please pray for our time that it would be productive, would bring us together as a team, would bring a clearer group vision and more. One of the things, I'm looking forward to is seeing Billy's (my director) vision of transitioning from outsider roles (which I would say is very, very common for Campus Crusade and Athletes in Action) "insider roles". This began to develop in Billy's mind when I was here on STINT in 2004-2005, but it has yet, in Billy's opinion, to be owned by all of us. I'll be honest, it's this vision that has me on staff here. I believe in it deeply. In places like Prague, or post-Christian environments in general, being an outsider doesn't make an impact. As places continually become more and more post-Christian we need this missional shift, taking on the skin of a culture and infiltrating it with the love of Jesus. So I'm excited to see what God does in this weekend.

football
Football is going well. We are 2-1 overall, and 1-0 in the Czech League. We lost the game in Dresden, which I am still bummed I missed from being sick. Oh well… This past Saturday night we played down in Brno under the lights and won 30-18. It was a first for me over here, planning under the lights that is. It was fun, even though we didn't play well and it was raining hard most of the game. In fact, it's interesting going into games where you are expected to thump an opponent. Our team in general seemed to be playing down to Brno. We will have a the same challenge with Pilsen coming into town this weekend. To make it harder is that we could easily overlook this weekend's game to next weekend's game against our rivals, and the current Czech League champs, the Prague Panthers. It should be interesting. Please continue to pray for my health in general. I'm no longer sick, but I still feel my body trying to catch up after that crazy flu I had. My hamstring and ankle are feeling okay, but they aren't where I want them a 100% yet, so I'm trying to bang off the rust in the midst of trying to get healthy which is uncharted waters for me. Below is a cool pic from Saturday's game, but to see more click here.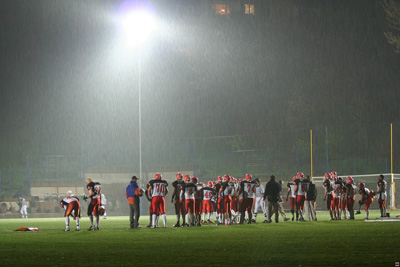 visa
I have great news! My visa is ready in Berlin! It has been a long process to "getting legal" and I'm almost there! I will get back from this planning weekend and taking a train 4 and a half hours to Berlin, picking up my visa and coming straight back to Prague. Then I will have one of the "long-termer rights of passage" with my first visit to the infamous foreigners' police to get my visa validated. Here is an excerpt from a recent
Prague Post
article about what a lovely experience it is:
During a recent visit to the branch, Yelena K., a Ukrainian citizen who has been working here for the past three years, threw her arms up in despair as she waited to register her new passport. "I have been waiting here since 4:30 [a.m.], and still I am not sure if I will have any luck," she said.
Apparently, getting up at 3 in the morning was not enough to secure her a front place in the disorderly queue. "People start lining up in front of the building as early as 2 a.m., but even these people are sometimes out of luck," said Radka Nichani, a visa-processing specialist who visits the branch on a weekly basis.
Please pray that it isn't too stressful and that this all gets taking care of. It is one of the not-so-fun-parts-to-living-overseas, but I learn a lot from it! Well, that car is almost here. I need to finish up! Blessings to you this Wednesday!