In Batman Begins, we hear this quote repeated several times throughout the movie, "Why do we fall, sir? So that we might learn to pick ourselves up." I love it because it is true to life and very, very true to American football! When we fall (or in this case, get "jacked up") we learn to pick ourselves up and stay after it. See the evidence of below…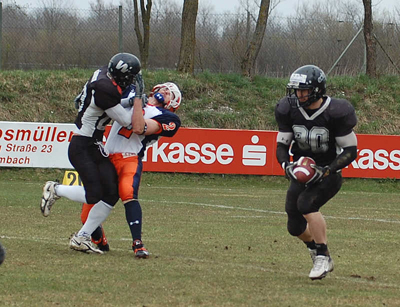 Yeah, that's me (#2). On the first punt of the game, I got caught and he certainly "jacked me up!" Quedos to #20 of the Wildcats for not giving up on the play and "jacking me up!" This is why I like to deliver the blows and not receive them. No fear, I survived the play and I'm happy to say that the image you see above does not speak of the outcome of the game either for myself, or more importantly my team.
We ended up beating the Kirchdorf Wildcats 28-7, after a sluggish start. You could tell it was our first game of the season as our newly installed offense and defense were bit sluggish. However, we turned that around in the second half and came out and scored 21 points unanswered points. We saw glimpses from a lot of the young guys that are playing and that was fun. Actually, that was my favorite part; watching some of younger guys make some plays and watching us "older" guys do what we do, even if that meant have the rust banged off by the hammer of our opponents shoulder!
Personally, I think my hammy and ankle are fine. (Thanks for the prayers.) I did say to my parents last night, "I'm definitely feeling this more than ever felt it before!" It didn't help that as I went to bed on Saturday night I felt a cold coming and I think it hit during the game. At the beginning of the second half my strong safety, David Horina, set me up a jump ball and I intercepted it, running it back for 70 yards or so. I'm grateful there was no one chasing me, because even with running free, I was gassed. And I mean gassed! I fell to my knee and thanked God for the opportunity and that I didn't have a heart attack right there trying to breath through the congesting! The cold has only got worse since I got home, I actually have stayed home today resting trying to shake this with ny-quil, echenasia, zinc, and air-borne. Haven't had too much success with that yet. Right now I'm leading towards taking another sick day, but that is tough because I don't want to miss Czech class. Pray that I get well soon and that my "older" body feels more normal tomorrow! Blessings!