So my love language is touch. What can I say? It's true. Well my director and great friend, Billy, doesn't have the same love language as me. So when we were having a Crusade long-term staff social this past Friday and we had to hold hands from a game I was very happy! Billy not so much, but it was fun! Here is a pic that my fellow-staff friend, Erin, snapped. A picture does say a thousand words!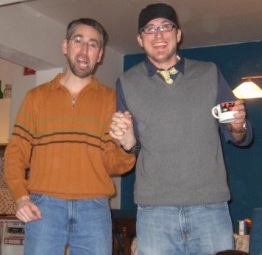 Notice the interlocking fingers! Seriously though, it is said that we each need a Paul (someone pouring into us), Barnabas (a peer of sorts, who encourages us), and Timothy (someone that we pour into) to us and Billy has been and will continue to be a Paul and Barnabas of sorts to me for some time. This is true man love as we see expressed throughout the Bible! Here's to redeeming man love!
"This is my commandment, that you love one another as I have loved you. Greater love has no one than this, that someone lay down his life for his friends. You are my friends if you do what I command you. No longer do I call you servants, for the servant does not know what his master is doing; but I have called you friends, for all that I have heard from my Father I have made known to you." John 15:12-15
I'm also lobbying for a little Romans 16:16, 1 Corinthians 16:20, 2 Corinthians 13:12, 1 Thessalonians 5:26 action, but my staff team isn't going for it.
All the brothers send you greetings. Greet one another with a holy kiss.
Oh well, small steps right… Blessings to you this Sunday!