"I should know this by now…" These have been words that have gone through my mind as of late. It would seem that God is teaching me things I thought I had learned, I still need to learn. See being on staff with Athletes in Action I have learned and taught how to worship the Lord through sport and moreover how to redeem sport, to a degree. AIA does this through what is known as The Principles. The mantra of The Principles is "WHERE GOD, LIFE AND SPORT UNITE || Transforming sport as an opportunity to worship GOD". What is beautiful about The Principles is that when an athlete grasps them, their life and game is transformed. It might translate to success on the field, it might not, but either way they are transformed. Well, I have been banged around in the last 7 years since I first learned The Principles and it would seem I need them to bang me around a bit more, or I need God to use them to bang me around a bit more. (There is a great resource I highly recommend called Game Day Glory which is The Principles in a study form. Click HERE and buy a bunch!)

Where do I begin with the run down of events that led to this current "banging" I'm taking now? I guess it started two Saturdays ago with football testing. I ran the slowest 40 yd. dash I've ran since high school probably (I do have some good excuses, but I will not make them here;-)), which was a bit embarrassing and then days later as I was presumably trying to make amends with some personal training during the week and I felt my left hammy tightening up. Well, the next night at the running I've been leading it tightened up even more and now I'm regulated to rehab and just coaching (do pray for a quick and full recovery, if the Lord does indeed desire that).

It has been in the midst of this that I have once again been challenged by something I know well, but I obviously don't KNOW it. So I printed off a chart comparing sport as an idol to sport as an opportunity to worship and it is currently chilling next to my computer and has been read, reread, journaled about and prayed about as of late. Here is a sampling of a few that hit home with me as of late: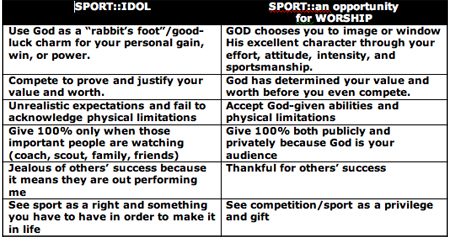 Great stuff, right? This goes for much more than just sports. Think how you could apply what you read above to your life. It doesn't have to be just sports. You could replace sport with your job, your children, your ministry, your accomplishments and etc. It is true what Calvin said about the human heart, "The heart is an idol factory." We are prone to turn good things into idols of some sorts.
This current lesson has come from many angles as of late. Including my earthly-father, echoing what God the father, has spoke into my heart, "What and for who are you trying to prove something for with all of this?" My dad asked that in response to my hamstring situation. I'm thankful that my dad asked me that, because, as I said, he was echoing words and a question that I had already been wrestling with. So here I am once again upon my knees looking to God the Father, to mold and shape me more into the image of His Son through the Holy Spirit as long to honor God in my playing, competing, coaching and more. Well, I have to get to work on prayer letter. Peace to you.