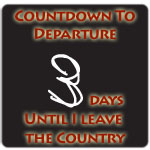 Prayer Request for 3 days out – Vision and fruition of that Vision – Wow the countdown can't get much smaller! The next couple of days' countdowns should be interesting… Anyway, today's prayer request is for continued unpacking of a larger vision I feel God placing on my heart and then to see it come to fruition in the next few years. I haven't been able to share it on the blog yet and if you have heard me speak this summer you might have heard what is making me come alive, but I will give you a little tasting of it today!
For those of you that know me, I'm a "church guy". That is a guy that loves the Bride of Christ and its many local expressions throughout the world. As I read the New Testament, I see the local church being the agent God is going to use to advance His Kingdom in this world. Thus, I'm a "church guy." With that being said, I've wanted to be a pastor and church planter for some time, but I know that God is calling me to Prague with Athletes in Action for the next season of my life. And I'm so excited about that ! I'm committed to AIA and what we are doing. One of the things that excites me most about AIA in Czech is that we are about building the Czech church. That is part of our mission, that we would be a tool in the hand of God to see the Church increase and thrive in Czech and all of Europe.
With this being said, the vision God has been putting on my heart, mind, and soul in the last year is a church plant in Prague. A Czech speaking church plant (This is one of the reasons why this
POST
is so big for me. Preaching in Czech is a bit of a crazy thought!). A church that is
"orthodox in theology but progressive in methodology."
The name of the church I've been toying with is
Tram 51
, which is a night tram that I have to take when the metro shuts down at midnight. Let's just say the people that ride the night trams are very different than the people you see during the day. That is why this would be a church for the fringe, the marginalized, those who the world doesn't give a chance to, and the broken! As I spent time on the night trams I thought, "This is where Jesus would be. He would be with these people." That is where the Church needs to be! So ultimately, I feel I am returning to Prague with AIA to lay the foundations of this church plant within the facets of work I do (university students, American football players, and athletes), because the average Evangelical church in Czech doesn't help these people thrive in the worlds they are in. I long to see them thrive and live missionally right where they are to see God advance the Kingdom in their spheres of influence.
I dream of this church being a missional community that exists for the glory of God and the good of their countrymen. Thus, as the main church hub is planted my dream is to plant many, many more churches in Prague that will create a network of missional churches that are seeking the transformation of Prague and Czech at large! A cool way of envisioning this is to use the night tram lines as a strategic grid of reaching the city. So we could have
Tram 51||Dejvicka
and then several stops down have
Tram 51||Letenske Namesti
and from there use it to plant this network of missional churches. (see map below) Because I believe if you reach Prague, you reach Czech, then you reach Slovakia, and if that is happening in the middle of Europe the sky is the limit as far as what God could do in reclaiming falling Europe (the number of Evangelical Christians in Europe is a staggering low 1.42%, according to the European Believers Report).
Beyond the Gospel being proclaimed audibly I dream of the Gospel being proclaimed by action and deed as well. This means I dream of the church reaching out to the homeless, the marginalized, the prostitutes, and the like through practical holistic ministries. Recently, I've had some really good conversations with men and women who have been excited about some of this. One of the biggest things that I would love to see, that is beyond the Church (that is the people of Christ) responding and getting passionate about this, is seeing space to do this ministry and God could be placing men and women around that could be major players in seeing this happen!
The last little bit of tasting I will give you is that I would love to see a Church Planting and Leadership Development Training Center to resource and train Europeans in Prague that would be a natural outflow of what God could be doing in Prague. Prague geographically is the ideal city to use as a hub to help the Church resurge in Europe.
So that is what I'm dreaming about. Like I said it is only a tasting. Some of you have been fortunate (or maybe unfortunate) to hear a bit more, but join me in praying that God would show up in this. It is far bigger than me. Much, much bigger than even a growing community of people. If God doesn't show up in this it will surely fail. Thus I say, with
Mark Batterson
,
Quit living as if the purpose of life is to arrive safely at death. Set God-sized goals. Pursue God-ordained passions. Go after a dream that is destined to fail without divine intervention.
I'm excited to see what God will do! It is God that will do this. Thanks for taking the time to stop by and also pray! Be a revolution today!