We all love cool stuff, right? Well, it seems like in the last couple years I have heard a ton about Moleskine journals and sketchbooks. Here is what Moleskine has to say about itself:
MOLESKINE IS THE LEGENDARY NOTEBOOK,
USED BY EUROPEAN ARTISTS AND THINKERS
FOR THE PAST TWO CENTURIES.

THIS SILENT AND DISCREET KEEPER
OF AN EXTRAORDINARY TRADITION, WHICH
HAS BEEN MISSING FOR YEARS, HAS BEEN
REPRODUCED BY THE ITALIAN COMPANY MODO
& MODO SINCE 1998. WITH ITS VARIOUS
DIFFERENT PAGE STYLES IT ACCOMPANIES
THE CREATIVE PROFESSIONS AND HAS BECOME
A SYMBOL OF CONTEMPORARY NOMADISM.

MOLESKINE IS A FAMILY OF NOTEBOOKS
FOR DIFFERENT FUNCTIONS, ACCORDING
WITH A FREE MINDSTYLE, BOTH BASIC
AND EMOTIONAL.
I figured since I am moving to Europe and I want to be an "artist and thinker" I should grab one. Well, what I found was their new product called The Moleskine City Notebook. They have dubbed the CityNotebook, "the first guide you write yourself." Oh, how "postmodern" of them, and very cool! They have a good selection of cities in Europe and some here in the States. Here is what is inside: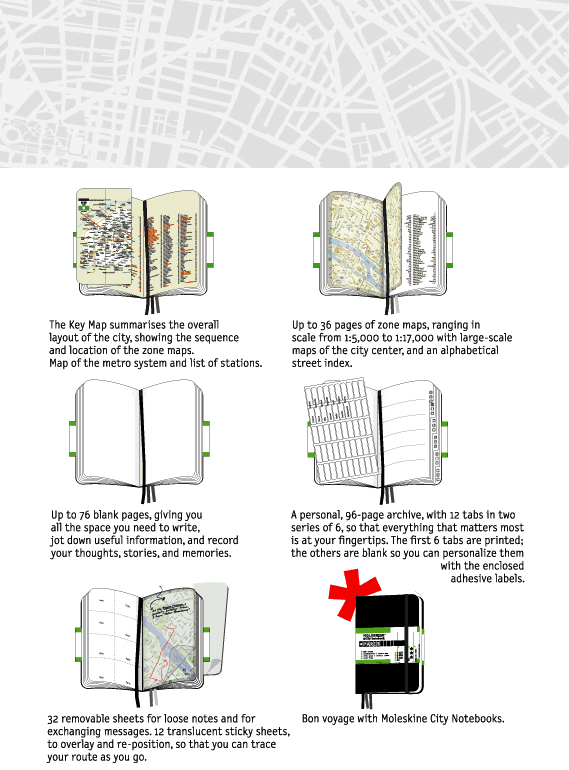 I grabbed one for Praha (a.k.a. Prague) and was excited to open it up and check it out! It is a very cool little journal, I'm excited to fill it up and put it to use in about 3 weeks and begin writing my own guide! They are a little pricey, but I think its worth it. I would love to pick some up for other European cities that I get to visit. Another cool thing is that Moleskine is doing CityBlogs, where you can add and share your "personal points of view, exchange information, discover your urban paths, your interests, your itineraries." But they don't have an active blog yet for Praha. We will have to see what we can do about that. Have a great night!