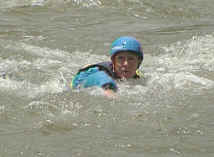 I AM ALIVE and so are my buddies who went with me! But I have a new found appreciation for the wild creation that God made and also for kayakers (for instance, rolling a kayak when you are upside down is really, really hard! I maybe had 60+ attempts in the pond and only had 2 successful attempts!)! It is way harder than it looks and as I sit here today I am very, very sore! I don't have to much to update you on yet, but if we were to give out awards from our group yesterday here are the awards I would have won:
1st to nearly drown
Dumped in the Rapids the Most
Thus, The Best Swimmer Award
Use Your Butt as a Pinball Through the Biggest Rapids Award!
But you know what? I loved it! It isn't the cheapest sport, but I would love to look into getting into it a bit more. There are some good rivers in northern Czech too! I watched some fun kayaking videos on YouTube and I posted my favorite one below. Kayakers are nuts! I didn't do anything like these guys, but it's entertaining. Blessings…. Oh, and thanks again Mom and Dad for the great birthday present!