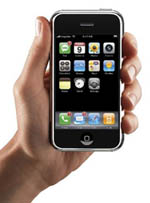 I have a confession to make. I love Apple products. It might be boarder line obsessive at times too! What can I say they make great products and I believe that Apple products will be heaven! You ask, "What Zach?" I have Scripture for it! In Revelation 21 John is describing what the City of God will be like and he writes this short phrase in verse 24, "the kings of the earth will bring their splendor into it." Then a couple of verses (v. 26) later he writes, "The glory and honor of the nations will be brought into it." So the great cultural achievements of mankind that reek of the Creator God's image implanted in them, whether they know the Lord or not will be brought into the City of God! What does "kings of the earth" mean? I'm not positive, but I could see Steve Jobs (Apple ceo) bringing the cultural achievements of the Macbook Pro, the iPod, and the iPhone to God! I guess we'll have to wait to see! If you would like to follow this in a more developed article click here.

So with yesterdays real big release of the new iPhone I found myself wishing I was in line with the other overly obsessive Apple geeks waiting in line to get one. But as I followed what was going on with the release I felt convicted and asked myself if I am content with my current phone and iPod being separate. The tension was great and then I realized I wasn't content so God reminded me of some verses.
"Keep your life free from love of money, and be content with what you have…" Hebrews 13:5a
"For we brought nothing into the world, and we cannot take anything out of the world. But if we have food and clothing, with these we will be content." 1 Timothy 6:7-8
"Not that I am speaking of being in need, for I have learned in whatever situation I am to be content." Philippians 4:11
What might it be in your life? It might not be an iPhone. It could be a new house, a new car, a new spouse, a spouse at all, or whatever! God is asking us to be content with what we have, largely content with Him and where He has knowing that He is a good God and takes care of our needs. I think this is what Jesus was getting at in Matthew 6:24:
"No one can serve two masters. Either he will hate the one and love the other, or he will be devoted to the one and despise the other. You cannot serve both God and Money."
Replace money with whatever you are struggling to be content with; for example, You cannot serve both God and an iPhone. Does this mean that God doesn't want us to enjoy good things? NO! He does, but when the good things replace our love and devotion of Him we are in trouble! So this day after the iPhone has been released I will confess my discontentment to God and choose to be content with the good things He has bestowed on me today! For a similar blog post, check out The Longbrake's.