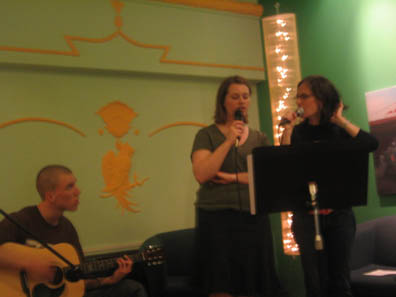 I thought it would be fun to post this picture this morning. I've posted (see here, and here, and here) before about my friend Ondra who came to know the Lord while I was in Czech for my first 18 month STINT. Ondra's changed life has been fuel for my heart while I've been away from Prague the last year and a half. "Why?" you ask. The reason, is because God has used Ondra to shape my vision for Czech! It is possible, by the grace of God, to reach country of nearly 90% atheists! Ondra is evidence of that!

Anyway, you are probably wondering about the picture above. While I was in Prague I met Phil and Shanna Davis, who are planting a church to the expat community with World Harvest. I've missed Phil and Shanna and their two great kids! But since I left I connect Ondra and Phil. Ondra has grown and blossomed within the loving care of Phil since I've been gone. Well, this past Sunday Phil and his team launched their new church, Faith Community Church, in Prague and Ondra led worship! Here is what Phil said about the worship in his recent post:
We had a great time of worship, let by Dorothy, Elizabeth, and Ondra – "Here I am to Worship," "Arise, My Soul," and "God of Wonders." Dorothy was rockin' on the egg shaker, and Ondra – well, his instrumental during the offering was the most worship-ful part of the service and something I won't forget.
I am thankful that God has completely inverted the life of Ondra and I can't wait to get back! Come quickly September (but Lord help me make the most of the time before then!). 😉 Well, I have to get to one of my last days of curriculum for work! Be a revolution today, who knows what God might do!