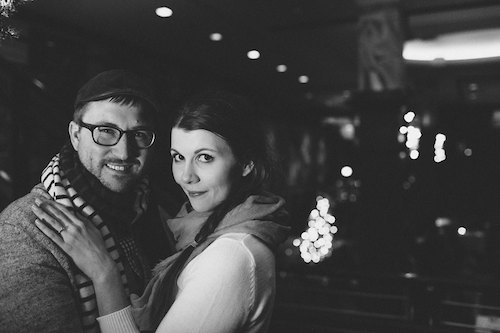 13%
That is what lies between Míša and I reaching the "recommended" amount of monthly support that TEAM has set for us. It has been an interesting few months back in the States, trusting God to show up in the midst of this season of life and also provide for us. I've learned a lot about myself, my own walk with God and God himself in this process. Which, at times, has been beautiful, then at other times it's been a mess, but through all of it I've seen God show up.
Last weekend I was blessed to take part in a mens retreat (which was life-changing and world-shifting! If you are a man, you need to do it, check it out, CLICK HERE!), and one of the things we talked about was "checking in" with our feelings, communicating how we feel and connecting with others around us. Fifty some men opened up using simple words – Sad, Angry, Scared, Tender, Happy, Excited and/or Tender to describe how we felt. Unlike, most men, I don't have a problem always vocalizing this (even to a fault, that is why the minute time limit was great for me), but it was powerful opening up and hearing men open up. With that said, I thought it would be cool to "Check In" as I think about the next 40 days and everything that is ahead of me.

So I'm checking in Excited and Scared/Tender in the midst of this 13% percent.
Excited because I have an amazing opportunity to trust God in a unique way and I'm amped to see how He is going to show up in the midst of my questions, excitement and doubts. I'm excited because I get to see 1 Thessalonians 5:24 – "He who calls you is faithful; he will surely do it." – played out before me! I'm also excited because more people are, Lord-willing, going to be blessed to share in the blessing of partnering with us to make a Kingdom-difference in Prague, Czech, Europe and beyond!
Scared/Tender because I have NO idea HOW He is going to show up and what steps I need to make in the midst of everything. I'm also tender because it's tough not hearing back from people, having to over communicate and realizing that the "playing field" of raising support has changed in the last 10 years. I'm also scared/tender because daily I'm realizing that this isn't just about providing for Zach to reach out and make a difference anymore, but that I'm also trusting Him, praying and doing all I can to provide for my soon-to-be wife as well. That is a bit sobering, but also exciting!
That's me. Those are my raw feelings. Checking in. HOPE!
As I prayed with a new friend yesterday, we have been "born again to a living hope through the resurrection of Jesus Christ from the dead" (1 Peter 1:3b), the tomb is empty, we have HOPE beyond HOPE. I don't know what the rest of today will bring, I for sure don't know what tomorrow will bring, but because of this LIVING HOPE, I'm choosing hope in the midst of this all. Which is exciting for sure!
With that, would you consider helping us get this 13% percent?
If you are already a ministry partner, would you consider increasing your giving slightly?
Even if 20 of our monthly ministry partners increase $20/month, we would be even closer to that 100%!
Maybe you are reading about what we do for the first time, or maybe you have heard about OUR ministry in the last few months, would you consider giving a monthly gift that is most significant for you?
I did a rough calculation, that about 75 people have been added to our update/prayer letter list and probably around a 1,000 people have heard about what we do from the opportunities to speak in churches to the open houses to the meetings and so on. If 75 people began giving monthly at and average of $30/month we would crush that 13%!
Would you consider connecting us with others that want to make a difference in Prague, Czech, Europe and Beyond?!!?
If in this last month, I was blessed, to get in front of another good amount of people the opportunities that I just shared would be even more than doable!
Once more would you consider helping us get this 13% percent?
If so, you can CLICK HERE to begin giving today. OR you can CLICK HERE and send us an email, if you might have ideas of others we can get in touch with (if you have questions please email us as well). Do you want to read more about what we do with church-planting in Prague? CLICK HERE Do you want to read more about how we are missional-insiders in the American football world? CLICK HERE
Thank you for being you. Thank you for reading my blog. Thank you for being part of what God is doing in Prague. Thanks for even considering this challenge and partnership.
Here's to 13% being 0%! No matter what you do today, GO BE A REVOLUTION!