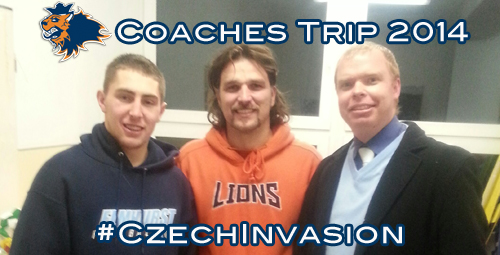 So another year is here and that means another COACHES TRIP. Coaches Trip 2014 has begun and we are in New Jersey until next Wednesday. Please pray the details of the trip will be worked out and that God would show up in this trip to allow Jakub, Ondra and Red to have an amazing experience, but moreover that their lives would be forever changed after this trip. You can follow along with us on Twitter, Instagram and/or Facebook by using this hashtag #CzechInvasion.
Here's the tentative schedule for the coaches trip:
January 30. – Fly to Newark, NJ
January 31. – AIA Super Bowl Breakfast
February 1. – Super Bowl Experience
February 2. – Sharing at Jacob's Well, Super Bowl Party
February 3. – Rob Smith (Offensive Coach from Clemson, Rutgers and others)
February 4 – Rutgers, AIA RUTGERS MEETING
February 5. – TRAVEL – Piscataway, NJ – Toledo, OH
February 6. – Michigan
February 7. – Michigan State
February 8. – Hope College
February 9. – Travel Day
February 10 – Visit Chicago
February 11. – morning – Wheaton College/afternoon – Elmhurst College
February 12. – University of Wisconsin – Madison
February 13. – University of Wisconsin – Oshkosh
February 14. – Time in Lake Geneva, WI
February 15. – Leave Chicago for Prague.