Okay, I had to post a better list to be on than the one I posted earlier today. Another list that Prague is on is National Geographic Traveler's list of the top 50 cities called Places of a Lifetime; the World's Greatest Destinations. Prague is there! It makes sense, but it is really intriguing to me for some reason. I'm not sure why, but it is. Maybe because I know that even though this place is so beautiful there is so much more under the surface that no travel page will ever write about. I long for the Gospel to break into those dark places and bring life! I grabbed a screen shot of a few of the cities.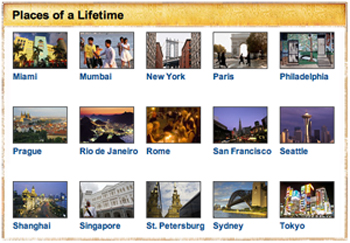 In all my talk about
"cities"
, and reaching them, this travel list could almost form a list of
Places that need the Gospel because they are so influential.
Reach the city, reach the region, reach the country, reach the continent, reach the hemisphere, reach the world… It all starts with the CITY. Let it start with these 50 cities, especially Prague (ok I'm a bit biased!)!