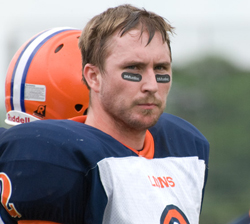 Well its the morning of the big game. I'm excited! It will be a great experience for us to play in the biggest, newest and nicest stadium in the country, but what I'm more excited about is the opportunity before me today. The opportunity in the midst of everything that is, and has been, going to worship God through this sport. I recently sent out an email with some ways to pray for the game today and the week. They were:
Please pray that the game would be a window to God for me and not a door. I've struggled this season, in the midst of circumstance, with having a proper motivation out there. Which is even harder against the Prague Panthers, because let's say they aren't a shining example for fair play and good sportsmanship.
Pray that God would use this week and game in my teammates' hearts and even the Panther's hearts.
Please pray for my left leg. I've been playing with a quad strain and pulled hammy most of the season and now it has developed into a bit of groin deal too. Pray that it would hold up, if that is what God intends. Moreover, pray that it would be an opportunity to trust and see God whether it is fine or not.
With that email I received some amazing replies! Thank you to all of you who replied with prayers and words of encouragement! One friend and ministry partner reminded me of Hebrews 12:28-29;
Therefore let us be grateful for receiving a kingdom that cannot be shaken, and thus let us offer to God acceptable worship, with reverence and awe, for our God is a consuming fire.
So good to remember – A KINGDOM THAT CANNOT BE SHAKEN! I also received this email:
I'm praying for you…..I pray you will have an otherworldly game against the Panthers….that you will be so engrossed in the game itself and that Christ will be guiding and empowering your every move that you will not even notice the dirty nonsense the Panthers. In the end people will say, what in the world "got into" Zach….but it wont be anything from this world.
Amen… Well said. What do I even say after that? Nothing. Well, if you want to read a preview of the Championship game click here. GO LIONS!