This is my dad: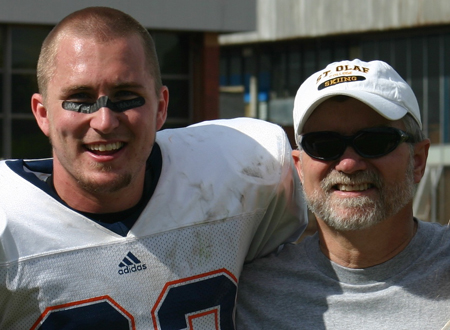 I love him dearly! Dad, I wish you a Happy Daddy's Day! I want to share a bit of how awesome my dad is with you, my faithful reader's out there in zACHhARROD.com land! I remembered this yesterday, as I was swinging a pinch ax with my director, while we were doing some yard work, but I was reminded that my dad (and my mom) have always created situations to, or allowed me to, follow my dreams – no matter how crazy they might have been. There are landmarks of this craziness all over the Harrod property back in Southern Wisconsin – two of the larger landmarks of this are the remains of a large off-road race track for radio control vehicles and an 8-foot high quarter-pipe in the hayloft of my dad's barn! I look back and laugh at these things and wonder, "What the heck were they thinking when they didn't just say "no" to this stuff!" Because I'll be honest, on this side of things I wouldn't blame them for doing so. But they didn't! My dad was always there in the midst of one fade, helping me pursue whatever current dream (fade) I was into.
As I've grown up, those fades of transitioned into real, concrete dreams and there you have been again dad – right by my side helping me chase them! My Dad has been incredible with helping me and encouraging me with what I now call work here in the Czech Republic. From personal support, to helping me raise support in anyway he can, to wearing my Lions jersey and giving big wigs my brochure at football clinics,
to helping get the Lions a ton of new equipment/gear
, to hooking me up with spiral mac and cheese you have been there! Thank you Dad (and Mom) for always helping me chase my dreams, even to this day, as the dreams are much bigger than we could have ever imagined! You have taught me what love is through this! Happy Daddy's Day!