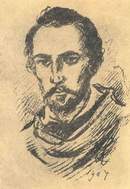 The First of May or the "Day of Love" is upon us, and it really doesn't mean anything more than a day off of Czech class for me and I guess getting some work done (tear, sniff… Not really.). Maybe some day, I will join in the festivities, but until then I will enjoy it as a day to sleep in and get some work done. So where does this "Day of Love" come from? One of the most renowned, if not the most renowned, Czech poets, Karel Hynek Mácha, wrote a poem entitled, Máj (May), and for the last two centuries this poem has led to much love. Today, I wanted to share a piece of this Czech literary gem with you on this Day of Love. I've been told, and read, that the majority of Czech students are required to memorize the beginning verses of Mácha's poem. Here is some information about Mácha and his famous poem from myczechrepublic.com:
On May 1st, lovers gather at the statue of Karel Hynek Mácha, the Czech Romantic "poet of love", in Prague's Petřín park where they lay flowers and spend a few moments. Then they kiss under the blooming cherry trees of the park. Karel Hynek Mácha (1810 – 1836) was a great Czech Romantic poet and author of the epic poem Máj (May). The poem, written in a remarkably beautiful style, tells about the tragic love of two young people and has become a poetic masterpiece of the Czech Romantic period and Czech literature in general.
And now to the poetry. Click here to read more.
Late evening, on the first of May—
The twilit May—the time of love.
Meltingly called the turtle-dove,
Where rich and sweet pinewoods lay.
Whispered of love the mosses frail,
The flowering tree as sweetly lied,
The rose's fragrant sigh replied
To love-songs of the nightingale.
In shadowy woods the burnished lake
Darkly complained a secret pain,
By circling shores embraced again;
And heaven's clear sun leaned down to take
A road astray in azure deeps,
Like burning tears the lover weeps.

A haze of stars in heaven hovers—
That church of endless love's communion—
Each jewel blanches and recovers
As blanch and burn long-parted lovers
In the high rapture of reunion.
How clear, to her full beauty grown,
How pale, how clear, the moon above,
Like maiden seeking for her love,
A rosy halo round her thrown!
Her mirrored image she espied,
And of self-love, beholding, died.
Forth from the farms pale shadows strayed,
Lengthening longing to their kind,
Till they embraced, and close entwined,
Coiled low into the lap of shade,
Grown all one twilight unity.
Tree in the shadows writhes to tree.
In the far mountains' dark confine
Pine leans to birch and birch to pine.
Wave baunting wave the streamlets move.
For love's sake—in the time of love—
Anguished goes every living thing.