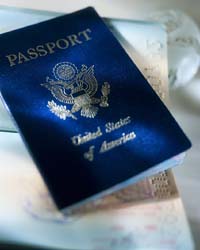 Yesterday began at 5:45. It was so early because I had to make it to the train station by 7 am; in order to do this I had to catch Tram 26 at 6:17. After shaking the cobwebs out on an early Saturday morning I made it to the tram station with time to spare, BUT as I stepped onto the tram it dawned on me that we were leaving the country and going to Bratislava, Slovakia for our 1st place show down with the Monarchs. The thought was. "Do I need my passport?"

So I wrestled within myself, "Am I really going to need it?" Ultimately, I think it was the Spirit prompting me, but I tried my hardest to convince myself that the paper copy I carry in my pseudo-man-purse was enough, because the last time we went through as a team in 2005 they didn't check. Well, my rational didn't make sense with my coach and after trying to figure out what I should do I decided to grab a taxi, get the passport and then catch the bus before it got out of Prague! Thus a little early morning adventure on the streets of Prague began.

Praise God there was a taxi right there, but it wasn't the trusted AAA company and I didn't have time to wait so I prayed and asked God that this guy wouldn't rip me off! The next 20 minutes spent in his taxi were humoring considering he didn't speak any English and my Czech is light years better than 6 weeks ago when I arrived, BUT this taxi ride began before 7 am on a Saturday morning after a long, full week of language class. So needless to say my "Czech mind" wasn't firing on all cylinders, but we got the passport and caught the bus! Thus ending my little morning adventure. I then found $20 on the street as I got on the bus (not really, but that story seemed to die so I needed to say something to attempt to redeem it). Oh, and he didn't rip me off! It was a fair fare.

Anyway, to the game. We lost. It was the junior team's first lost of the season and it came after a HUGE win over our cross-town rivals, the Panthers, last week. So it was a bit tough for our guys to get up two weeks in a row and that equaled a 6-0 defeat. At half time it was 0-0 and we were winning most of the battles, but didn't win the war of the whole game. Our defense was playing great and they (Bratislava) weren't doing anything. Our offense would put together drives and move the ball, but wouldn't be able to finish it with a score. Their only score came on a 4th and 1 70-yard quarterback sneak. Yeah. No fun.

Good comes from defeats like this. It's a learning experience for down the road and it hopefully shows these guys that if they were to up their work ethic they would see more success. Another plus, is that losing produces a healthy brokenness. Jason (another American missionary involved with the Lions) and I saw this on the way home, as we both had significant conversations with guys. We are both excited to see what God will do with the junior team as we coach. Please pray that God would grab a hold of some of theses guys' hearts!