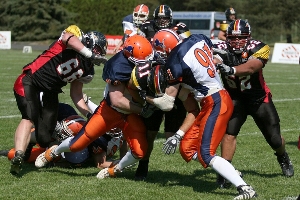 I got an email sent to me recently (and a phone call, thanks Chris!) about my team, the Prague Lions, winning their first EFAF Cup Game (this is the European Champions League for American Football) last weekend. This is big news for our team and the development of football in Czech! The only sad thing is I wasn't there to celebrate with the team! In time… Below is the headline about the game and you can click HERE for the rest of the write up!
Prague – In what turned out to be one of the most breath-taking EFAF Cup games in recent memory, the Prague Lions defeated the Carinthian Black Lions at Charles University Stadium by the score of 17-13 as a last gasp 4th down pass fell incomplete in the endzone.
Please pray for the next 3 weeks as I seek to connect with people and develop new relationships that Lord-willing will result in God providing the needed support for my return to Prague at the end of the summer.