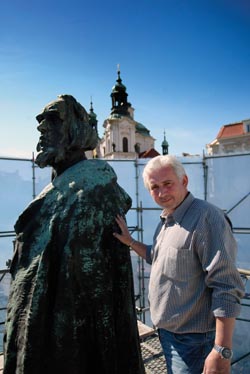 One of my favorite statues, of one of my favorite Czechs (Jan Hus – or in English John Hus), is getting some body work. I read the Prague Post this morning to learn the revetting news! It is sad for all the tourist this season who won't be able to see the famous statue of Mr. Hus, the great reformer! If you want to read the whole article click here, but below is a quote about Hus from the article.
Hus, one of the most famous figures in Czech history, was the Protestant religious reformer who inspired a reformed church in Bohemia almost a century before the Lutheran Reformation. He was excommunicated from the Roman Catholic Church in 1411 and burned at the stake four years later. Pope John Paul II apologized for the death in 1999.
Hus is also known for inventing the system of diacritics, or spelling symbols, in modern written Czech, and was a former rector of Charles University.
Have a blessed Revolutionary day! This is my last day on campus too, please pray! Why don't you leave a comment letting me know how I can pray for you!