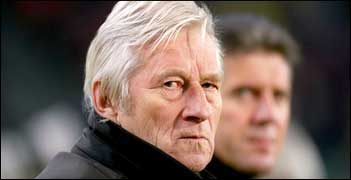 Well, in the wake of a dismal showing from my team, the Czech Republic, in the World Cup I have been reading some articles about the future of Czech soccer and I came across a very cool quote from the Czech head man, Karel Brückner. This quote of course is in light of the Czech's performance, or lack of performance, from the Ghana and Italy games.
"Soccer is about finding extraordinary solutions in critical situations, unfortunately, we failed in critical times."
The Czech national team did fail in those critical situations, but as I read this quote I couldn't help but think about us, as Christians. We are living in a unique time in history and I asked myself (and now you), "Will we step up and find extraordinary solutions in critical situations or will our impact on our culture and our world look like the Czech impact on the 2006 World Cup?"

I mean think of this for a moment…

The Czechs were ranked #2 in the world (yeah FIFA needs to rework their ranking system) behind perennial powerhouse Brazil. There was buzz about the Czechs and when they had there debut game of the World Cup they stepped up to the plate and delivered. There were quite a few analysts that were talking Czech up after their 3-0 shellacking of the States.

But they took a Ghana squad for granted and then failed to answer to Italy's call in the 26th minute of their make-or-break game. Now the Czech squad is back in Czech watching the World Cup.

It is easy in my mind to see a parallel with the Church of Jesus Christ – that being those who are truly Christ-followers that make up the Body of Christ – and the Czech performance in this year's World Cup. As I sit at my former place of employment, Basic Bookstore (a Christian bookstore), there are books upon books that talk about how we have the tools and everything to win the world for Christ (which we do, but bear with me), but I wonder if we will step up and look for "extraordinary solutions" in light of world happenings or will we just fall back on the talk of the Christian leaders and our Pastors and leave it at that?

This comes down to the everyday, normal Christian that attends church every Sunday, is in a Bible study, and active in their church. Will these people, including me, step up to the plate? It is my prayer that this point in history the Church will trust in and believe the promises of God and go after and think outside-of-the-box and find "extraordinary solutions in critical situations!" That way when each of our times come we will not be able to say, "unfortunately, we failed in critical times." May that never be. May we never be just talk, that comes out with a big flash, but then doesn't show up when it really matters. May we be the revolutions that God has called us to be and go to a hurting world that needs to hear the revolutionary news about Jesus' radical love, forgiveness, acceptance, peace, power, and hope. We know the result, but will we be part of it?
And this gospel of the kingdom will be proclaimed throughout the whole world as a testimony to all nations, and then the end will come (this means Jesus comes back, He wins!) –Jesus (Matthew 24:14)