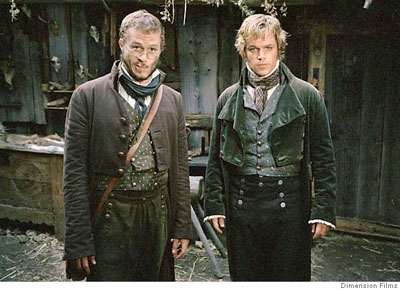 Last night I went to the movies with my grandparents! I know what you might be thinking, "Man, what's going on with Zach. Hanging out with his grandparents?" Don't worry, I haven't crawled into a shell since I've been back in the States. I'm still vacationing at my grandparent's and we thought we would check out a movie last night. Plus I have ultra hip grandparents!

I have seen previews for The Brothers Grimm since I've been back and I just had to pay my 10 bucks to get in! I have to be honest real quick – 10 bucks for a movie? What is our world coming to? This is an injustice! I want to go back to Prague where I would pay about $4 at the most! I would gladly endure the sketchy previews and cheesy commercials before the film if I could pay $4! But alas, God has me here for the time being and if I want to see a movie I will give my kidney to view it! Or so it seems.
Anyway, to the movie!

—
Growing up in the country, isolated from known civilization, and having only one sibling, my younger sister, I was forced to use my imagination or resort to sitting and being mesmerized by the greatest videogame Nintendo ever put out – Excite Bike. Now I don't want to knock Excite Bike, but that would be a pretty sad existence. Then on top of that I was a little boy that should have probably been diagnosed with ADHD (for those of you, like me, who don't know what this means it is an acronym for Attention Deficit Hyperactivity Disorder). It was because of this that the cornfields, streams, and woods behind our old Wisconsin farmhouse became my haven for adventure, mystery and danger. It was within these woods and cornfields where I would escape the teeth of vicious coyotes (which in my mind were more like enormous wolves), dodged the attacks of the evil wood trolls, flee from the evil creatures that lay in waiting for my young blood behind every fallen tree and many more tall tales. It was on these acres where my imagination would run wild and I would concoct outrageous stories that I always convinced my peers actually happened.

So when I snuggled into my seat at the cinema to watch The Brothers Grimm I was swept back to the woods that were full of mystery and danger. In the woods of French overrun Germany the Grimm brothers enter into a mysterious story that they would never imagine. As we meet Will (Matt Damon) and Jacob (Heath Ledger) Grimm they are found, like I was, as frauds. They had been fabricating witches, trolls and the likes for years, making money off of 'ignorant' village people who would believe anything. Their story had appeared to come to an end, when it was merely just beginning, as the French protectorates arrested them and gave them a simple choice, to investigate the disappearances of 10 girls or be executed. Easy choice – life. As they ventured to this small German village they entered a story they would only have imagined or at best tried to fabricate.

After arriving, with great pomp as only these so-called heroes could, in the village they set their sights on the woods where the disappearances of 10 girls, including Red Riding Hood, and Hansel's sister, Gretel, had taken place. The brothers found their cursed trapper, Angelika (Lena Headey), who would guide them through the woods they were about to enter a tale larger than they could invent. It is in these woods where they encounter mystery, vanity, and what it means to live.

Will, much like most our culture today and many within the church as well, thought he could always explain the mysterious things in the world. There had to be a pulley and a man behind the mystifying phenomena before him. As the trees picked up their roots and other unexplainable things happened he wrote it off, "These people are much better funded than we are!" Meanwhile, Jacob, a student of folklore, was always reluctant to believe what he actually studied and knew, due to his own insecurities and his over domineering brother. However, Jacob began piecing together the little stories that the villagers had told and what was happening before his eyes to realize there was a larger story going on, that he had now entered.

Within the woods they encounter the antagonist that was wreaking havoc on the small German village – the Mirror Queen (think the witch in Snow White). Who happened to be one of the first Christian queens in the area many centuries before, she had been among the Christian monarchy that wiped out the woods. The woods would eventually fight back and with the allegiance of this beautiful Christian queen, who happened to only worship her own beauty. In an effort to acquire eternal beauty she turned to spells and evil incantations. Her plan failed and she attained eternity, but her beauty faded as fast as she grew old. For centuries she laid is wait for the moment when she could attain it once again and it would only be attainable by the death of young girls. Could the film's writer, Ehren Kruger (Skeleton Key), be saying something about today's Christians? Could he be asserting that we, Christians, are vain, don't care for our environment and lack concern for our fellow man? I leave that answer to you.

As most films, the main characters self discovery comes through and Will and Jacob grow as individuals, but also as brothers. Years of resentment and misunderstanding begin to fall as they battle the evil forces of the Mirror Queen. It is in this mysterious battle where Jacob and Will found themselves and the facade they had manufactured for years crumbled and they found more than the lies they had propagated for years. They both had begun to believe that the stories were true. They took different roads, Will needed to be slapped in the face by the truth of the story and Jacob needed to enter it and have what he already believed affirmed. At one point Jacob's discovery was vocalized and he proclaimed, yet questioned, "The story's real, isn't it? We are part of the story. Its real isn't it?" See Brothers Grimm learned the truth of the story not by running from it or trying to write it off with pulleys and cranks. As they entered the story they could no longer write it off as children's tales because they engaged the story and in fact became part of it.

Have you entered the woods? Have you learned there is a story looming larger than you could ever imagine? Open your back door, look into those trees, which may have lost their dark enchantment, and begin to wonder, with me, what larger story lies beyond that tree line. Who knows you, we, might find something we never were looking for but was there the whole time.