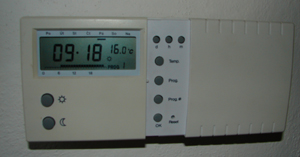 WOW! A cold snap has hit Prague. Which is funny, because I actually love cold weather. BUT this morning I don't at all! There are two reasons for that, 1) We (my roommate and I) and can't figure out how to turn the stinkn' heat on. I don't know what is wrong with us, but we NEED to get this figured out. 2) I don't have my cold weather stuff because my shipment is still in the warehouse in Chicago!
So please pray we get our thermostat issue figured out so I don't have to use the oven to hit our flat and so that I don't wake up in the middle of that night in the fetal position. It was
brutal
last night! Please continue to pray that I get my stuff sooner rather than later. This has been a nightmare and right when we think it gets better this company drops the ball again! My dad and I actually talked about just eating the $1,000 deposit and going with another company, but that would have been long, so we sent a check in for the invoice they sent us. But that updated invoice (which was only $500 less than the $2000 they raised it to from my original quote) took them 2 weeks to get to us and now because of "paperwork" my stuff is still in Chicago.
So pray for my patience too, because I need it. The sad thing is I'm going to have to go spend some money to get some cold weather stuff (I've been holding of as long as I can, but I have to now) that I own and should be here, but because of bad business and shear arrogance it isn't. Oh well, God is still on his thrown and that brings peace in the midst of the chill. Well, I'm going to get rolling, my friends
Jason
and
Mark
are shooting some pics and I'm going to tag along. Blessings to you this weekend!