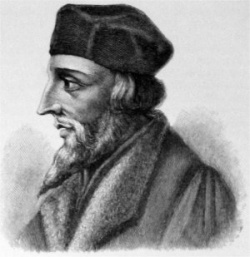 Today 590 years ago one of the father's of the Reformation was burned at the stake for his love of Jesus and the truth! I wanted to share two quotes from Jan Hus' life today, I pray they cause you to live the REVOLUTION I'm always talking about.

"O faithful Christian. Search for Truth. Hear Truth. Learn Truth. Love Truth. Speak the Truth. Hold the Truth and DEFEND the Truth till DEATH!" From Hus' work Exposition of Faith
Then as he was about to be burned alive, he prayed:
"O God, even that bravest Soldier [referring to Jesus], though He knew He should rise again on the third day after suffer depressed in Spirit. O most Holy Christ Draw me as weak as I am after thy self. For if thou does not drawest we cannot follow thee. Give me a fearless heart and a right faith. A firm hope, and a perfect love. That for thise sake I may lay down my life with patience and joy. Amen."
I would love to write more this morning about life, everything going on here, and Hus' life but I have to go help out the AIA baseball tour that is in town. I pray you have a blessed day! LOVE THE TRUTH!